About our Budget Web Design Package
In the modern world, having a web presence is essential to help potential new clients find out about the services you offer, your location, opening times and how to contact you. Whether you are starting a new business, looking to replace your old website or if you do not have the budget for a large, expensive website, our budget web design package may just be for you.
What is included in the Budget Web Design Package?
The budget Web Design package is a one page wordpress website. Every website we build is 'responsive' meaning that their 'liquid layout' adapts and reflows to suit any device. With more than half of visitors now browsing on their phone, a responsive mobile-friendly website will maximise the chances of engagement from potential clients.
The website we will build will feature:
Your logo
An introduction and about paragraph
Up to 10 key services bullet points
Up to 3 images
Your contact details
A contact from
How much does the Budget Web Design Package cost?
To build the website there is a one off build cost of £299.00 plus vat. We would take a £100.00 plus vat deposit to start the job, with the balance being paid on launch of the website.
Once your website is live, your new website will be deployed into our cloud platform powered by AWS EC2. This uses the same proven infrastructure that runs famous names like Netflix, Pinterest, Expedia and Amazon. Our starter hosting is priced at £15.00 a month plus vat.
We also can also spread the cost of the build over 12 months if required.
What do I need to do to get started?
All that you need to do is supply the content such as your logo, images, text and links to your social media accounts and our web design team will make a start. We can design artwork, logos and create content for an extra cost if required.
This is a great way to improve your web presence, and the best part is that your site can evolve and include extra pages and booking functionality at a later date if required – the possibilities are endless!
Examples of our Budget Web Design package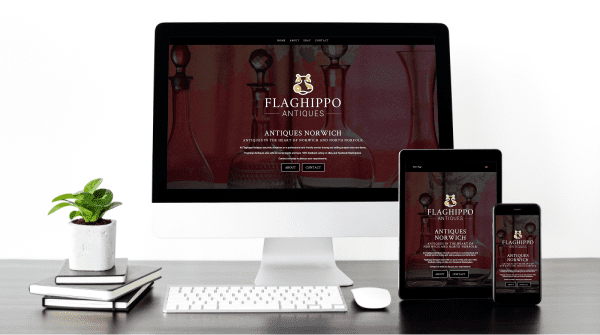 Flaghippo Antiques
are an experienced couple, specialising in glass, glassware and ceramics. They buy and sell antiques and retro items to both trade and the public in Norwich and North Norfolk. They sell online for collection or offer a postal service for customers purchasing items in the UK and internationally. You can find them at all major Antiques Fairs nationally as well as local events in Norwich and Norfolk. In this project we completely redesigned Flaghippo Anties website as they were struggling to design one themselves, and had been having issues with other companies. Nettl of Norwich Central stepped in to help and designed them a brand new website, including new logo, instagram feed and a direct feed for their eBay store meaning that they can showcase and sell all of their latest products on their website.
We were contacted by
The Cellar House
as they were having a few issues with their website. They were having issues with changing text and images, as well as paying over the odds for their hosting. We built The Cellar House one of our new budget one page websites for just £299.00 plus vat. We also saved them £20.00 a month on their monthly hosting price. Nettl of Norwich Central will offer help and training on how to change the website so they will easily be able to do this in the future.
About The Cellar House, Eaton
"The Cellar House in Eaton, Norwich has always been a welcoming pub with a good local reputation. The charming Grade II Listed building, which dates back to 1840, has plenty of character with exposed beams. an open fire in an inglenook fireplace and the main bar being split into three areas by solid wood pillars. We are a vibrant, family-friendly pub offering delicious home-cooked food at very reasonable prices, from lunchtime until late into the evening, every day (and breakfast on weekends and Bank Holiday Mondays). The Cellar House has a well-stocked bar, plenty of inside seating, a great outside patio and a large beer garden with picnic benches and a children's play area. Our food is freshly prepared from locally sourced ingredients wherever possible and our menu offers something for everybody. We offer premium lagers and real ales including frequently changing selection of locally brewed ales, and a large selection of wines by the glass. We've also stock Gluten-Free and alcohol free bottled ales and lager. The Cellar House is in a convenient location with ample car parking just south of Norwich off the A11 Newmarket Road and is only a 10-minute drive from Norwich city centre. Eaton Village Post Office is housed within The Cellar House (at the end of the bar). The Cellar House welcomes families, and dogs with well-behaved owners."
Please follow and like us: