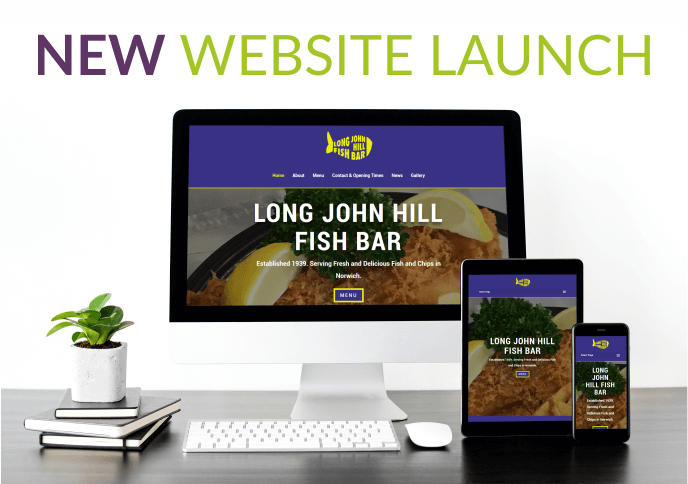 We are pleased to announce the launch of a new website, www.longjohnhillfishbar.co.uk.
Long John Hill Fish Bar have been serving fresh and delicious fish and chips in Norwich since 1939.
Long John Hill Fish Bar acare about the quality of the food they produce and use traditional methods – for example they fry in beef dripping for the ultimate traditional taste.
They care about the environment, and only use responsibly sourced fish. They have also reduced the amount of platic used in their packaging, and all of their food waste, cardboard, plastic and glass are all sent for recycling.
Long John Hill use local ingredients and suppliers – "We are pleased with the relationships we have with suppliers in Norwich. From our bread rolls, to sausages, we use local suppliers wherever possible to ensure freshness of our produce.
We believe our handmade pies are the best in Norwich! Their unique pastry crust and fresh meat which is supplied direct from one of Norwich's finest butchers with 11 delicious flavours to choose from. We are proud to be the only fish and chip shop offering these wonderful pies!
Our potatoes are sourced directly from a local farm. Throughout the year we will rotate the variety of potato we use to make sure they are the best seasonally available. Chips are prepared from the fresh potatoes every day."
Their new website can be found at www.longjohnhillfishbar.co.uk.
If you are looking for a new website for your business, then please get in contact via email to norwichcentral@nettl.com. We would be more than happy to help!
Please follow and like us: